---
---
Webinar Recording: Demystifying eInvoicing – the new ATO initiative (with guest speakers from Link4 and the ATO)


Date: Wed, 14th Oct 2020
Time: 10.30AM - 11.30AM (AEDT)
This webinar has concluded. Please fill out the form to request a recording of it.


The landscape of on-boarding invoices is evolving and we are at the forefront. Electronic invoicing (or eInvoicing), the new ATO initiative, is a more efficient, accurate and secure way to deal with your suppliers and buyers and will deliver lower costs, time savings, less errors, better reliability, tighter security, faster payment times, environmental benefits and more.

eInvoicing is the automated digital exchange of invoice information directly between a buyer's and supplier's accounting systems. It is not about sending PDFs through the email system anymore. With eInvoicing, there will be a shift in the way suppliers interact with their vendor and Xcellerate IT solutions provide a holistic method to manage the on-boarding of both traditional (email with attachments and paper-based) and eInvoices in the one platform.

Our solutions support the initiative of the Australian Government who is committed to deliver eInvoicing. With over 1.2 billion invoices exchanged in Australia annually, savings to our economy are estimated to be $28 billion over 10 years.

Join Howard Boretsky (Xcellerate IT), Robin Sands (Link4) and the ATO as we demystify eInvoicing.

Agenda
Overview, features and benefits of eInvoicing

The ATO perspective – the intent and status of the eInvoicing initiative

How to get started with eInvoicing

Live eInvoicing demonstration

Questions and answers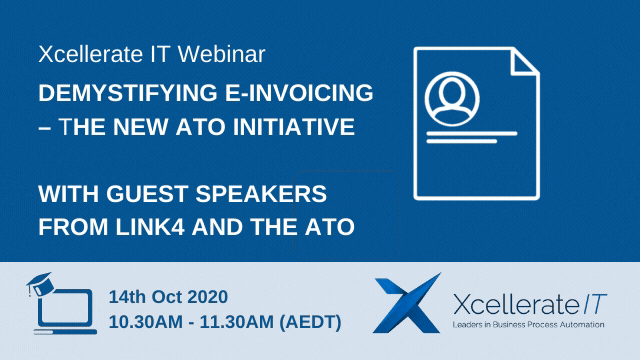 Xcellerate IT drives digital workforce initiatives and provides market leading business process and Accounts Payable automation solutions to transform and automate information intensive business workflow processes, across both back and front office operations.

Link4 provides eInvoicing Access Point services under the PEPPOL framework and is an accredited PEPPOL Access Point provider for Australia and New Zealand.

The Australian Taxation Office (ATO) is the legislated Australian PEPPOL Authority. The ATO is responsible for facilitating and supporting the adoption of eInvoicing across business and all levels of government in Australia.

Do you have any questions?
Get in touch with us
and one of our friendly team members will be happy to help.
Want to learn more about digital transformation and business process automation?
Follow us on social media
Join our communities and stay up to date with the latest Xcellerate IT, accounts payable and business process automation news.
The Xcellerate IT team
_______________________