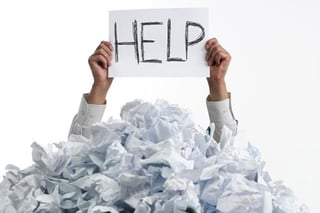 Let's be honest. Manually processing invoices isn't efficient. It's a slow, error prone, and quite often convoluted process even for people experienced at processing invoices.
Ask yourself some simple questions:
Has anyone in your AP team made a mistake when entering or checking data?
Do you process invoices today the same way you did 2, 5 or even 10 years ago?
Have invoices ever been lost or misplaced?

If you answered yes to any of these questions and your invoices are passed around like the picture to the right then rest assured you are not alone. The challenges you are experiencing are being faced by many organisations who to this day still use a manual process for handling invoices in Accounts Payable. In fact, despite significant advances, 47% of P2P organisations are still using paper-based invoices (Source: Hackett Group P2P Study).
Benefits
Increase processing speed and reduce costs
As you can see from the below (Ardent Partners - 2014) research reducing processing costs is certainly a top priority across accounts payable and finance professionals.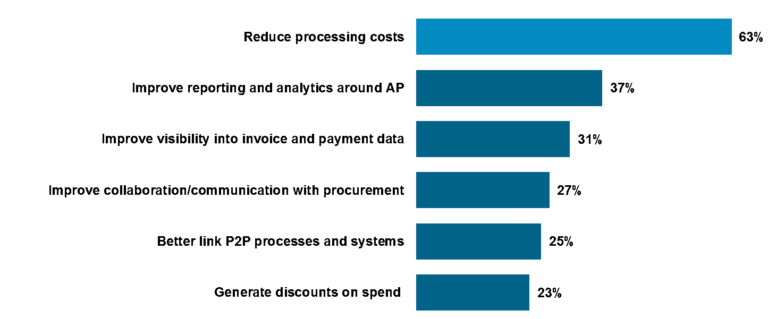 The Aberdeen Group has carried out research that shows when invoices are processed and the impact of delaying this. According to this research a Best in Class accounts payable team (top 20%) will process an invoice in 3.8 days and it will cost them $3.09 per invoice while a laggard (bottom 30%) will take a whopping 20.8 days to process a payment and it will cost them $38.77 per invoice. If you use these details in an example involving a company that processes 2000 invoices per month, it will cost the best in class business $6,180.00 per month while it will cost the laggard $77,540.00 per month.
By automating and digitising your accounts payable, in addition to cutting labour costs and the cost of storage of paper files, organisations will also see costs reduce due to less human error, less hands touching a document and a more efficient approval process.
2. Reduce manual data entry errors and increase productivity of staff
People make mistakes. This is a fact of life. Misfiling or misreading documents, mistyping information into systems as well as documents going missing or becoming ruined can be major issues for AP departments in the processing of invoices. Automation can almost completely remove human error from the process meaning that less mistakes get made and the AP team can be freed up for higher value services. Errors can be significantly reduced with multiple checks being run by the system and simple steps being taken by the AP team to move the invoice along. With automation, staffing costs can be kept to a minimum as a business grows and evolves.
Enhance visibility and Improve control
With automation, management have visibility of outstanding work by monitoring transactions, statistics and service levels in a near real time environment via in depth dashboards.. They can also benefit from having controls set up to prevent and deter fraud. Documents can be found quickly when you need them. So when that supplier rings up asking where their payment is at you can tell them quickly. There is also an audit trail at every touch point – detailing all changes and approvals made along the workflow process as well as all those that have viewed it.
Enable mobile access
Automation allows documents to be accessed from anywhere with an internet connection. Approvers can review and approve invoices from home or while travelling. Removing the need for approvers to return to the office to approve payments significantly reducing delays. Mobility also ensures that regardless of where management are at any time they have visibility of critical failures and alerts prior to items becoming an issue.
In conclusion, whether you need to reduce your bottom line or improve your efficiency to double throughput without adding head count process automation is a proven effective way to achieve your goals.
For further information please visit our website or contact us.