Kofax's TotalAgility represents the information-intensive, real-time interactions customers have with an organisation. This includes new accounts, loan applications, insurance claims and healthcare admissions to name a few. These interactions are often manual, resource-intensive, complex and error prone – and because brand perception and customer loyalty is heavily shaped by a good or bad customer and supplier experience, the Kofax mission is to help make the First Mile of business smarter.
Whether your goal is to:
- Digitise information for archives, visibility and compliance
- Automate processes for increased speed and accuracy
- Establish new levels of collaboration for better service
- Completely transform the very way in which you engage with customers
Kofax TotalAgility can help.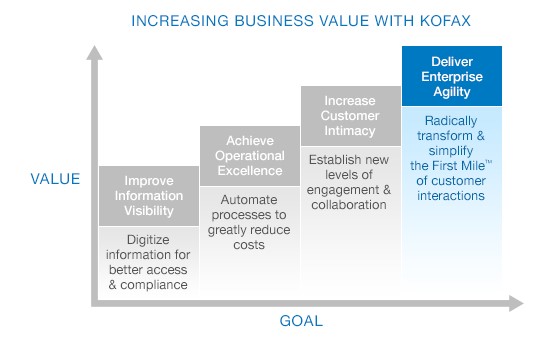 Business Need: Deliver Enterprise Agility
The ultimate stage of the journey is for companies that truly want to become highly customer-centric and transform the way they do business. It requires the biggest effort, but produces the greatest return.
Kofax smart process applications make information-intensive interactions faster, easier, simpler and smarter. Built on the Kofax TotalAgility platform, they empower enterprises to transform the way they engage and interact with customers through multiple channels and dynamically adjust to outpace the competition and meet changing market conditions.
Organisations can easily engage customers, however and whenever they want: capturing information, status updates, confirmations, approvals, exception resolutions, trailing information, changes, and much more. In addition, real-time event monitoring, powerful intelligence and analytics are available for process optimisation.
The ultimate goal is maximised operational performance and improved decision-making for better service, a competitive advantage, lower costs and a faster-growing business.

What "total agility" looks like is unique to every organisation. Kofax helps make the destination a reality.