Kofax's next generation Robotic Process Automation (RPA) platform provides integrated AI, and 'intuitive' bot creation and management. The Intelligent Automation platform of Kofax RPA has unique architecture and complementary 'smart automation' solutions empower enterprises to quickly and cost-effectively plan, deploy and manage a digital workforce that scales.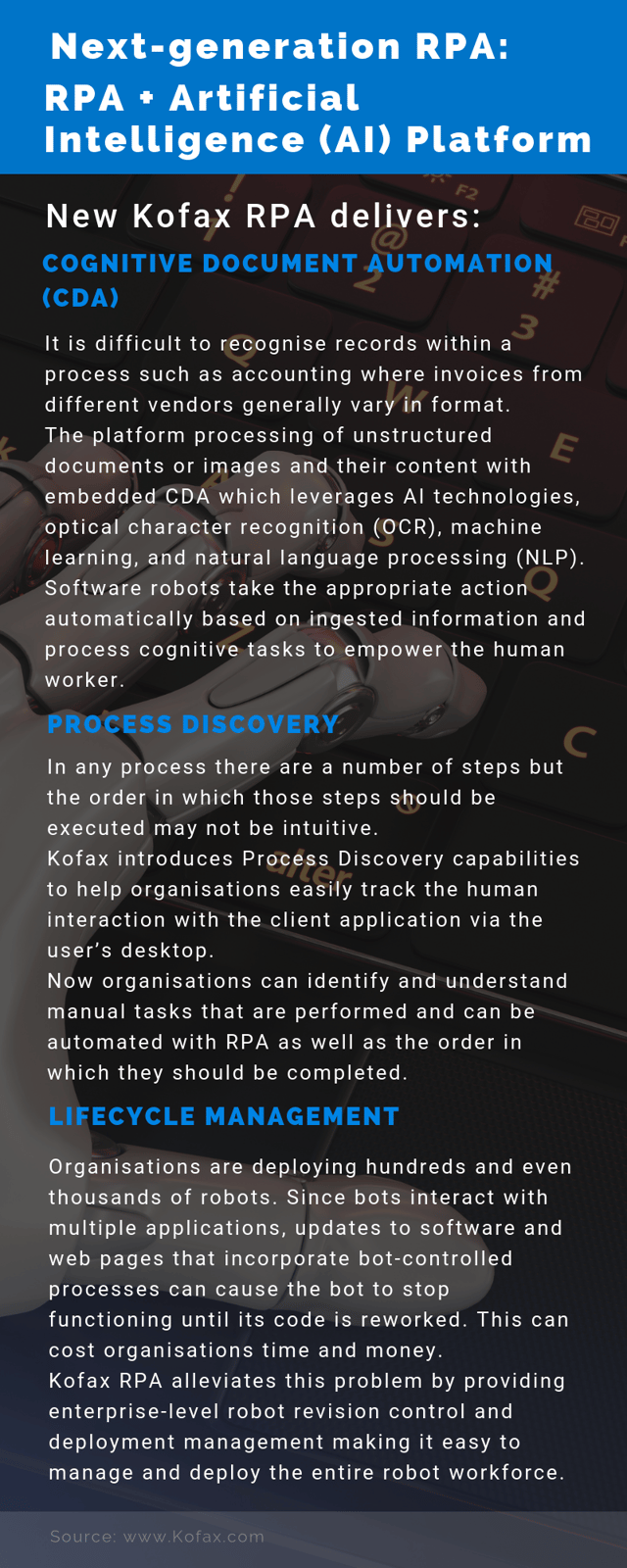 Reynolds C. Bish, Chief Executive Officer of Kofax says, "Early adopters of RPA have experienced the many benefits in shifting human labor from 'data gatherer' to 'data user' roles. Increased productivity helps them remain on track for profitable growth, improved customer service and significant competitive advantage. These exceptional organisations are eager to scale their digital workforce throughout the enterprise and can now take advantage of a complete end-to-end solution purpose built for enterprise deployment—today and tomorrow."
Source: Kofax
We can help you transform your business processes.

Contact us to find out more.
About Xcellerate IT
With over 21 years of knowledge and experience in Business Process Automation, Xcellerate IT is a leading Australian provider of powerful digital transformation software, providing innovative solutions to transform and automate information intensive business workflow and robotic processes, across both back and front office operations.
We are proud to have completed projects for over 100 Australian customers. These projects have assisted our customers to embrace the future by offering compliant, transparent and structured processes that meet their individual needs. Xcellerate IT's solutions have powered corporations across various industries including manufacturing, finance, local and state government, education, healthcare and a wide range of companies.
For more information please head to our new website or contact us for further information.
Phone: +61 2 8228 6600
Email: info@xcellerateit.com
Address:
Level 2
73 Walker Street
North Sydney NSW 2060
AUSTRALIA