As the digital economy booms, it empowers organisations to exploit business opportunities created by this new automation. Artificial intelligence, software robots and other digital technology have changed expectations of how automation can drive digital transformation and create the future of work.
According to the Forbes Insights survey, more than three-quarters of respondents said 60 percent of their processes could be automated.
Building a Digital Workforce where technology and people work together
Organisations implementing automation to work alongside people can operate better, faster and more efficiently. Early adopters of automation, who have found a good balance between people and technology, are already observing benefits and have indicated a happier workforce.
According to the Deloitte Global RPA Survey1, the benefits of adopting automation are significant. More than 90 per cent of organisations surveyed who implemented Robotic Process Automation (RPA) observed outcomes such as improved productivity, improved compliance, reduction in costs, and improved data quality.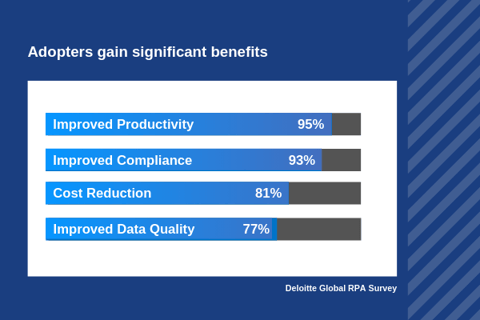 In this digital era, organisations continue to prosper by staying relevant and delivering end-to-end automation using intelligent automation, the next generation of Robotic Process Automation.
The Kofax Intelligent Automation platform harnesses five highly integrated, unified, Artificial Intelligence (AI) - driven capabilities including cognitive capture, process orchestration, robotic process automation, mobile and advanced analytics. It enables organisations to bundle these inter-operable capabilities on a single platform and eliminate the complexity of managing multiple vendor technologies. Flexibility is at the core of this modern platform. Technically and commercially, this platform is designed to enable organisations to 'adopt and extend' intelligent automation capabilities as per the organisation's priorities. This next-generation intelligent automation technology not only automates steps in a process, but also improves upon them.
For more information on Intelligent Automation contact us on info@xcellerateit.com or click here to request a callback.
References:
1Deloitte Global RPA Survey. The robots are ready. Are you?
Forbes Insights: Accelerating Business Value with Intelligent Automation.
Related:
Blog: The Balanced & Hyper-connected Enterprise, Powered by Intelligent Automation
Video: Kofax Intelligent Automation: Changing the way business is done with a digital workforce
Follow us on Social Media for the latest news and event updates
About Xcellerate IT
With over 21 years of knowledge and experience in Business Process Automation, Xcellerate IT is a leading Australian provider of powerful digital transformation software, providing innovative solutions to transform and automate information intensive business workflow and robotic processes, across both back and front office operations.
We are proud to have completed projects for over 100 Australian customers. These projects have assisted our customers to embrace the future by offering compliant, transparent and structured processes that meet their individual needs. Xcellerate IT's solutions have powered corporations across various industries including manufacturing, finance, local and state government, education, healthcare and a wide range of companies.
For more information please head to our new website or contact us for further information.
Phone: +61 2 8228 6600
Email: info@xcellerateit.com
Address:
Level 2
73 Walker Street
North Sydney NSW 2060
AUSTRALIA