Are you presented with document challenges such as invoices, sales orders, purchase orders, contracts, claim forms and application forms?
Robotic Process Automation (RPA) and Cognitive Document Automation (CDA) combined together work well by using Artificial Intelligent and software robots to automate different kinds of time consuming and error prone manual processes.
RPA automates repetitive manual tasks that interact with websites and applications, trigger responses and communicate with systems – this is the repetitive "hand work" of processing data.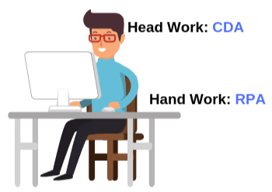 CDA automates the processing of unstructured data contained in documents and emails – this is the intelligent "head work" of understanding what the document or email is about, what information it contains and what to do with it.
CDA has the capability to improve information visibility, reduce document processing costs, increase productivity, accelerate processes, reduce errors and improve customer engagement.
Here is a step-by-step example of RPA and CDA working together to automate invoice processing: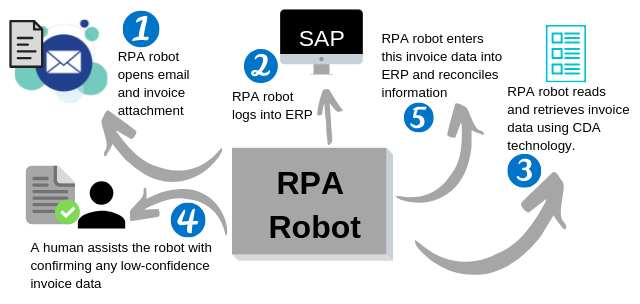 Source: Kofax
Want to learn more? Download Kofax white paper - Cognitive Document Automation: It's Not Just About OCR
Connect with us on Social Media
About Xcellerate IT
With over 21 years of knowledge and experience in Business Process Automation, Xcellerate IT is a leading Australian provider of powerful digital transformation software, providing innovative solutions to transform and automate information intensive business workflow and robotic processes, across both back and front office operations.
We are proud to have completed projects for over 100 Australian customers. These projects have assisted our customers to embrace the future by offering compliant, transparent and structured processes that meet their individual needs. Xcellerate IT's solutions have powered corporations across various industries including manufacturing, finance, local and state government, education, healthcare and a wide range of companies.
For more information please head to our new website or contact us for further information.
Phone: +61 2 8228 6600
Email: info@xcellerateit.com
Address:
Level 2
73 Walker Street
North Sydney NSW 2060
AUSTRALIA